This post comes from an email I sent to teachers in the buildings I work with to provide them with support in technologies that are available and ways to use them in their classrooms.

Augmented Reality

I have been talking to teachers recently about using Augmented Reality/QR codes with students. One conversation has been about having students create audiobooks and share with other students. We could record the student reading the book and then create a link to that recording that would connect to a QR code or other augmented reality program. This could be shared with other students who provide feedback, or younger students as listening centers. I have a few teachers interested in starting this project, and am excited for the results. If you are interested in this, please let me know. (Note- I was reminded to be careful of copyright issues when proceeding with this project-)

I have included an example of using the technology for a parent teacher conference. The student drew a picture that became the QR trigger for the video she created talking about what she has learned in school so far. It was really cool hearing about her school year in her own words as we waited to meet with her teacher.

Augmented Reality Example

Another use that could connect the AR example to the book example is to have students create video or audio critiques of the books they have read. You could then use AR like Aurasma to connect to the book in the LMC and when students scan the book they could read a short review from their peers. Just remind students not to SPOIL the story in their reviews.

Connecting with the world

We are ever increasing our access to technology, and with that our world is shrinking. Ever want to connect your classroom to the world beyond your building? Ever want to learn about far off places? Have you considered Virtual Field Trips, or Mystery Skype or using Google Hangouts? The link below has a great list of potential activities for connecting your classroom to the world. The author has written a book about using technology in the classroom, and I met him at a conference this summer.

Global ConnectionsRandom Name Selectors

Ever find yourself selecting the same students when having class discussions, choosing groups, or assigning tasks? Well the three tools I have linked below all help with these issues. They are interactive and quick tools to help you select students for various activities.

Additional Application:

We want all students to participate and demonstrate their level of understanding. We also have a finite amount of time for discussions and instruction. A method I used is to put the main questions on the board and then use the Random Name selector to choose 3 students per question. I tell them these 3 students are responsible for answering the question. Student 1 responds and 2 and 3 add details to help pull it together to make a complete answer. If they have an incomplete response, then the rest of the class will be called upon. This gives the students lead time to think about their assigned question. This is just one method of pulling students into discussions that can be utilized.

Random Name Wheel

With this tool, you can edit the names on the wheel and save your finished product. It creates a unique URL that you should copy and paste into a Google Doc or Google Spreadsheet to have easy access. You could also add the URL to your bookmarks bar to be able to access right from Chrome without having to open a file.

Random Name Picker

This is a quick name selector that you could copy and paste your class list into and it will select a random student. This does not create a saved version of your list, unlike the wheel example above. You would have to enter names each time you wanted to use this.

Random Name Selector

- This version allows you to add your class list as the others, and like the first one allows you to save your updated class list with a url. You can also change the time the selector uses to choose the next name and determine if you want a choice removed during this session. It will not delete from the original list, but prevents repeat picks.

Google Draw

-

Google Drawing is a great way to create visuals for a multitude of applications. It allows you to pull images into the program using the Research tool (under the tools tab) and dragging and dropping the image. You can layer images, add text and shapes. There are a multitude of tools available via Google Draw. I wanted to share 2 things that have come up for me this week. Cropping and Saving.

Cropping Images

Google allows you to crop images you insert. Cropping is a function that I am sure most people have heard of, and is included in many products, including many camera phones. What I recently came across is the ability to crop an image into a shape. You click on the image- then the crop icon appears with a drop down arrow next to it. Click the arrow and you will see shapes appear. Choose a shape and you will change your image. See Below-

Saving Google Draw images
I was asked about sharing/emailing images to the print center. The image that we were looking at wasn't able to be saved as a PDF which is the preferred method for the print center. We inserted the image into Google Drawings and then clicked File Download As and chose a PDF. This allows the image to be emailed to the print center.
Powered by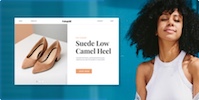 Create your own unique website with customizable templates.